Schaerer Coffee Art
Espresso and coffee in perfect quality. With the milk system "Milk light", all trendy coffee beverages can be produced by just pressing one single button: Ideal for: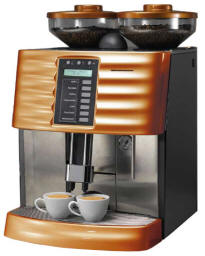 With the Art, you have it made!

The Schaerer Coffee Art is the ideal machine for all who demand up to 150 cups of top-quality coffee per day – for instance, small to medium-sized restaurants, cafes or offices. We are proud of the machine's strengths: space-saving, powerful performance, service-friendly and easy to clean. Thanks to a wide array of options it may be very easily configured to meet your every need. A new milk system guarantees perfect milk foam for the ultimate coffee experience. Isn't it time you got to know the Schaerer Coffee Art?